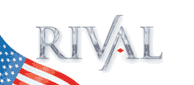 Established in 2006, Rival Casino Software has made quite a name for itself since its inception. This is due to several factors: one, Rival Casino software features the very popular I-Slots and two; this software is available to both Windows and Mac users. In addition, Rival Casino Software incorporates a wide variety of features producing some of the most user-friendly online gaming applications online. Features such as: download and flash play (allowing for real play or play for fun), player history, promotions, and an excellent VIP program makes Rival Casino Software a cut above the rest.
Best Rival Casinos
I-Slots Exclusive to Rival Casino Software
Offering a wide range of casino games, Rival Casino Software is most noted for its I-Slots which are interactive storyline-based slots that provide a myriad of theme-based adventures using video clips that are both exciting and engaging. In addition, Rival Casino software also offers single and multi-hand blackjack, American and European Roulette, a variety of video poker games, and many other casino games as well.
Management System
Perhaps one of the best features of Rival Casino software is its management system called RivalPro. This application is used to track all casino operations in real time. Its ClassAct application provides for the timely disbursal of bonuses and comp points to players, and InTouch enables players to receive fast responses to their inquiries. All of these applications are an integral part in making Rival Casino Software work so efficiently while meeting the needs of its players.
Rival Casino Software Casinos Welcome US Players
One of the major benefits of Rival Casino software is that there are many Rival Casinos who welcome US players. Add to this the fact that both Windows and Mac operating systems are compatible with Rival casinos. These factors contribute to the ongoing success of Rival Casino Software providing yet another winning combination for all players.
All Rival Casinos