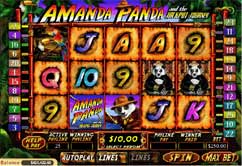 Another new slot game that is now available on mobile devices is Amanda Panda Mobile Slots. As a side note, this game as all other mobile slots will become available for iPads and iPhones as well. In the meantime, you can play this fun slot game, which is loaded with bonus features. And, anyway, who doesn't like Pandas?
Game Facts
A 5-reel, 25-payline bonus video slot, Amanda Panda is luxuriously designed to bring you every detail in bold colors. The coin denominations range from one cent to $10, with a max bet of $250. Yes, this is a high rollers game in theory, but anyone can play for a lesser amount and still reap fabulous payouts. Although the jackpot is 1500 coins, you can realize even higher payouts using the many bonus features included in this slot game. The pay table is three pages, so read it carefully so that you are fully aware of all the symbols, their payouts, the bonus features, and how they operate. Another feature we like is the autoplay. This is great in case you are called away or need to take a break.
Panda Symbols
There are an abundance of symbols in Amanda Panda Mobile Slots. These include: The Wild symbol, Amanda with a hat (which may remind you of a certain movie about a certain man who embarks on a myriad of adventures), Amanda sitting on a throne, a pot of gold, two birds, the Amanda Panda Logo, and cards ace through nine. Each provides the player with an abundance of payouts. In addition, you can garner 10 free spins playing this slot game. All you need to get are three Amanda Panda Logo symbols. And then there is the Secret Chamber feature. We'll leave you to read all about this in the payable. Intriguing!! Oh, and by the way, the background music is fabulous!
Play Amanda Panda Mobile Slots
Whether you are new to mobile casino games or not, you can't pass up the chance to play Amanda Panda Mobile Slots. It is engaging, fast, and has lucrative payouts - plus some very interesting bonus features.