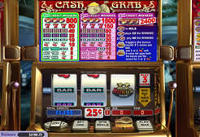 If you love classic slots, you'll love playing Cash Grab Mobile Slots. This slot game is available for all HTML5 mobile devices, and frankly, it is just as great as playing it on a PC. The graphics are colorful, engaging, and the pay table is available directly above the slot machine so that the symbols and payouts are easy to ascertain.
Game Facts
A 3-reel, 1-payline bonus slot game, Cash Grab Slots has coin denominations ranging from one cent to $10. It is always advisable to bet the max so that you can achieve the highest payout playing the bonus feature as well as the regular game itself. The required amount of coins needed is 3, and you can adjust the coin denominations using the appropriate button on the left. You also have the spin reels button and the bet play max button to get you started right off the bat. The jackpot is a cool 2400 coins, as long as you bet three coins at $10 a spin.
Symbols and Bonus Features
The symbols in Cash Grab Mobile Slots are traditional. They include: cherries, bars, and 7s. However, there are also the Cash Grab Logo symbol and the Bonus Game symbol. These two symbols produce the high payouts. The Cash Grab symbol is wild and when all three appear, you hit the jackpot. During the regular game, the Cash Grab symbol pays out up to 4xs your bet. When the Bonus Bag appears, you will see a pop up on the screen so you can play the Bonus Game. Nine bags of money are shown. Your objective is to choose one. You can also return the bag for another one or collect the amount won. You can also play the Bonus Game if the symbol appears along with two cherries. So you have two chances to play this game!
Play Cash Grab Mobile Slots
The beauty of playing Cash Grab Mobile Slots on your device is that everything you need can be seen on one screen. The payout information is there as well as the slot machine. No need to go from one page to another as you would do when playing a 5-reel slot. Moreover, the Cash Grab Mobile Slot game is ideal for mobile users who want instant gratification. The game is fast, lucrative, and fun. Therefore, if you are new to playing slots on a mobile device, this is the perfect game to begin enjoying the mobile gaming experience.