Fruit Slot 5 Lines Slots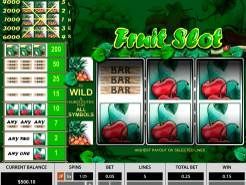 Play Now
As we have seen from Top Game, Fruit Slot 5 Lines Slots is a grade up from the 3 Lines Slot game. Moreover, instead of three jackpot wins, there are five. This genre of slots is just as much fun to play than its counterparts due to the additional high wins per line.
About the Game
Fruit Slot 5 Line Slots has 3 reels. This is a 5-coin slot with a max bet of $25 per spin. Thus, if you bet the max and play all the lines, you have the chance to win one of the five top prizes in this game. The pay table is located to the left of the slot and you can view the symbols and payouts as you play. There is the usual Auto Play button, and the bet and line buttons at the bottom.
Playing the Game
In Fruit Slots 5 Lines Slots, there are five different ways you can win, as opposed to the one line and 3 line slot games of the same name. The Pineapple is the Wild symbol, and if you get three of them on line 4, you will win the jackpot of 6000 coins. Get three of them on line 5 to win 4000 coins; get three of them on line 3 to win 3000 coins; get three of them on line 2 to win 2000; and get three of them on line 1 to win 1000 coins.
Conclusion
The only difference between the 5 line slot and the 3 line slot is the position of the Wild symbol. This is a very lucrative game and we advise you to bet the max and all lines. Play Fruit Slots 5 Line Slots at our preferred online casinos for US players.