Halloween Bonuses and Slots
With hundreds of online casinos for USA players available today, slot enthusiasts find theme-based slot games among the best casino slots to play. We concur and would like to share with you one of our favorite holiday themes by showcasing best Halloween slots and Bonuses.
Great Halloween Casino Bonuses
250% Match up to $2000
---
Play at:
Black Lotus Casino
Count Spectacular Slots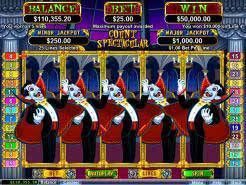 Count Spectacular Slots is a new 5-reel, 25-payline progressive slot game. The Halloween theme incorporates symbols such as: count spectacular, castle, zombie, werewolf, coffin, bat,doorknocker, bunch of garlic, mirror and oil lamp. The jackpot is progressive, and the coin size ranges from 10¢ to $5, with a maximum bet of $125. Ideal for penny slot players, Count Spectacular Slots is perfectly in sync with things that go bump in the night and will keep you in sync as you play this very user-friendly slot game! Play Count Spectacular Slots at Silver Oak Casino , Club USA Casino , Lucky Red Casino , Manhattan Slots Casino .
Read our Count Spectacular Slots review.
Witches and Wizards Slots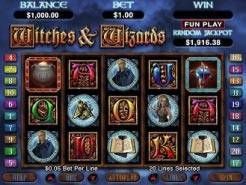 It wouldn't be Halloween without answering the doorbell and asking the kids whether they want a Witches & Wizards, right. Well thanks to Bovada Casino , you can play Witches & Wizards Slots all night long, even after the stroke of midnight - the bewitching hour! Another 5-reel, 25-payline slot game, Witches & Wizards Slots is perfect for this holiday event. Featuring the witch, wizard, magic wands, king, ace and bars; you will enjoy hours of fun trying to win the $20000 jackpot. The coin size ranges from 10¢ to $5, with a maximum bet of $125. Win back the money you spent on all that Halloween candy as you spin the reels to get the Cauldron Symbol the wild symbol.

Read our Witches and Wizards slots review You can gather up a mountain of treats playing Witches and Wizards Slots at All Star Slots , Manhattan Slots and Slotastic Casino .
Crystal Ball Slots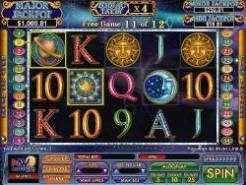 This brand new slot game is fantastic for Halloween night. It is a 5-reel, 25-payline bonus video slot with a jackpot of 24,000 coins. The symbols express the theme perfectly, and you may : Silver Zodiac and a Gold Zodia, the Sun, the Moon, Saturn, Constellation, and cards Ace through Ninee The coin size ranges from five cents and three dollars. This bonus slot machines features are aplenty including Silver Zodiac and a Gold Zodiac as 2 wild symbols, and the Astrologer as the scatter symbol. But, more importantly, if you get three or more Astrologer symbols, you will win 12 free games. Play the exciting Crystal Ball Slots at Buzzluck Casino Read our Crystal Ball Slots review.
Scary Rich Slots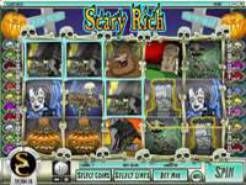 Scary Rich Slots is a 5-reel, 20-payline excellent game for celebrating Halloween holiday .The game offers bonus free spins (10 Free Spins) with 2x, 3x, 4x multiplier and good money payouts including 10,000 coins max jackpot, expected payback is 95%! The Halloween horro theme incorporates symbols such as: vampire, frankenstein, black crow, pumpkin head, mummy, witch, and werewolf. Play Scary Rich Slots at Golden Cherry Casino , Uptown Aces Casino , SlotoCash Casino .
Halloweenies Slots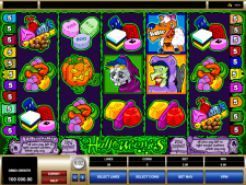 Celebrate Halloween by playing the Halloweenies slots because this game was created for this holiday! This 5 reel, 20 paylines Microgaming online slots offers a lot of fun game play, great pumpkin bonus games, 13 free spins, wild, scatter, 13,000 coin jackpot. Play Halloweenies Slots at 32Red Casino , Hippodrome Casino .
Phantom Cash Slots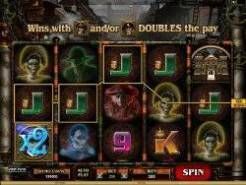 Phantom Cash Slots is a 5-reel, 25-payline bonus video slot with a jackpot worth 2500 coins. In the spirit of the movie "Ghostbusters," you will thoroughly enjoy this creatively design slot game for its many bonus features including: wilds, scatters, and the Ghost Zap Bonus Feature. Can you catch all eight ghosts to win huge payouts? You are you gonna call to do so? Play Phantom Cash Slots at our recommended casino and find out! Play Phantom Cash Slots at Betway Casino .
Twisted Circus Slots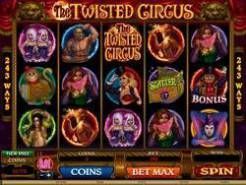 Twisted Circus Slots dark humored slot game is a 5-reel, 243-payline bonus video slot wherein you can win up to 555,000 coins! Yes, you heard right. With wilds, scatters, free spins, and a Circus Match Bonus designed to thrill and delight you, the center ring of this bonus game can win you up to 42,000 coins alone. Everyone loves the circus, and you will too when you play Twisted Circus Slots at our recommended casino.
Witches & Warlocks Slots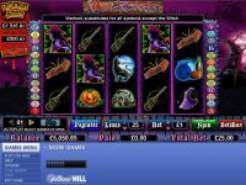 Witches & Warlocks Slots is 5 reel, 25 paylines Cryptologic progressive game! This fantastic game features wild, scatter, two progressive jackpots, bonus game on the second screen. Symbols are black cat, broom, cauldron, crystal ball, magic spell book, Potion, pumpkin warlock, and witch. Play Witches & Warlocks Slots at InterCasino .
Don't Go Bump in the Night: Play Halloween Slots
With Halloween just around the corner, we would like to remind you that there are a myriad of Halloween theme-based slots you can play at home or on your mobile devices. As you can see on our Halloween Slots page, we have listed the best of Halloween Slots along with Halloween Bonuses. There are quite a lot of them, so if you can take a moment to go through them and then join the participating online casino, you will be ahead of the game.
3 Things You Might See in a Halloween Slot Game
There are lots of things that might pop up as you load a game based on All Hallows Eve. This is supposed to be the night where the fabric between our world and the beyond is at its thinnest. This allows ghosts, ghouls, and other horrors to seep through and scare us… or at least that is how the idea goes. It sure does make for some freaky entertainment and some trouble getting to sleep!
If you enjoy playing slots, you will probably already know there are plenty of them around that offer a Halloween-themed experience to enjoy. There are lots of things you might spot in these games too, and we've highlighted some of them here.
Appropriately-designed wild symbols
A pumpkin is a popular choice for a wild in these games, although some slots choose other symbols instead. Whatever a wild icon might look like, you can be sure it ties in with the theme of the game.
Some of them might have special features too, such as a walking wild that changes positions with each spin until it disappears altogether. Watch out for these as they do make life more interesting.
Vampires, witches, and ghouls…
Yes, you can spot lots of characters in these games, many of which are supposed to crop up on the night itself. Some of these might simply be worth certain amounts depending on how highly they are valued within the game. Others may take on the role of the wild, the scatter, a bonus symbol, or even a jackpot symbol.
Check the paytable prior to trying your luck with any Halloween game. It will help you understand the roles of each of these elements.
Specially-designed bonus features
You cannot always be sure these games will feature bonus elements. However, there are times when you will play a game with one or more bonuses to trigger.
Since the Halloween theme is packed with possibilities in this area, you might find yourself choosing caskets to find prizes… or frights… within. Crypts, graveyards, and other similar places might also be chosen to provide further entertainment.
You can see there are lots of elements to look forward to if you play a few of these games, regardless of how complex they are or who has created them. It provides you with good reason to try as many as you can.
Which Slot Games are the Scariest Ones to Play for Halloween?
If there is one thing you will easily be able to find online today, it's some slot games based on the Halloween theme. Within that themed category you will find numerous games ranging from the cartoon and comical to the genuinely freaky.
Since Halloween is about frights and scares, you may want to go for the latter style of game. There are lots of slot games that fit this category, so we thought we would see which ones might be the scariest. Do you agree with our choices?
A Nightmare on Elm Street
Don't go to sleep… you might face Freddy himself in this slot game version of the famous movie series. This one begins with a warning that you might see scenes of a violent nature, so it does not fit the cartoon category, that's for sure.
The game may be a few years old now, but it still has the capacity to shock. Freddie appears as the wild, and there is a Never Sleep Again bonus that means you can win coin prizes before you go to sleep… You can also win free games and benefit from an expanding wild - the only time you'll be glad to see Freddy himself.
Creepy Carnival
A carnival? Surely this would be an entertaining game to try your luck with? Well… just look at some of the characters appearing in this game, including the clown. They're not drawn to be pleasing to look at, that's for sure!
The fearsome tiger is wild, and we also get a witch with a forked tongue used as the scatter. There are some great features to try and trigger if you play the Creepy Carnival slot, but be warned, it's certainly creepy to look at.
Paranormal Activity
Remember the movie? That was disturbing, so you can expect the associated slot game to tick the same box. This is adults only, that's for sure, with 243 ways you can try and win prizes, and lots of bonuses to contend with too.
There are three free spins features - the Demon free spins, the Paranormal free spins, and the Possessed free spins. The element that sets this apart from many other slots is that it was produced in association with Paramount Pictures. That makes it an official game, with lots of familiar images including the freaky girl as a wild icon.
The Spirit of Halloween Returns
Named after All Hallows Eve, it seems that the last couple of years have produced a myriad of Halloween movies. Perhaps one of the best known is Halloween 1978. Moreover, there is an ad from a well known Halloween Store that is offering perhaps some of the best Halloween costumes ever designed. The Halloween spirit is alive and well. We invite you to visit our Halloween Slots page and play your favorite Halloween games.