Treasures of Pharaohs 3 Line Slots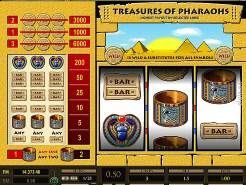 Play Now
As we return back to the ancient Egyptian theme-based slots, Treasures of Pharaohs is one of many slots with different pay lines. This particular slot can be considered a classic. With the Great Pyramids in the distance, you will also note that the Gold Coin is the wild symbol in this game.
About the Game
Treasures of Pharaohs is a 3-reel, 3-payline slot. The max coin bet is 3 coins, and the max bet is $15 per spin. The pay table is conveniently located to the left of the slot making it easy for players to view the payouts as they play. Because this is a low wagering slot game, we recommend you bet the max in order to win the jackpot of 6000 coins.
Playing the Game
Playing Treasures of Pharaohs is relatively easy. If you are new to online slot play, this is the game to start with. We always recommend you bet the max when playing a game of this kind, that is, a low max bet. So if you can bet the max of $15 per spin, you can win the 6000-coin jackpot when all three Gold coins symbols appear on line 3. When you get three Gold coin symbols appearing on line 2, you will win 3000 coins with a max bet; and if three Gold coin symbols appear on line 1, you will win 1000 coins with a max bet.
Conclusion
Classic slots of this type are easy to play and offer, as in this case, wild symbols or even more special features. We've come a long way since the classic slot days of old, and the special features added since have made classic slots a favorite among online players from the US. So take a trip to our preferred casinos and play Treasures of Pharaohs 3 Line Slots.