Football Star Slots
A new and exciting slot game has just been released to great fanfare. In keeping with World Cup tradition, Football Star Slots is a powerful 243-way slot game with multiple bonuses and lots of action to go along with it. You'll enjoy the music, the cheering, and the feeling that you are right there watching the game.
Game Facts
A 5-reel, 243-way bonus video slot, Football Star's coin bets range from 1 cent to 10 cents (what could be more perfect!), with a max spin of $50. There are three jackpots: the first is 5000 coins when you get five #19 Footballers; the second is 2500 coins when you score 5 #8 footballers; and the third is 2000 coins when five #5 footballers show on all reels. Of course, betting the max will always get you to the highest payout. We do recommend you read the pay table to view all the symbols, payouts, and multiple bonus features.
Football or Soccer…..Tomato or TomAto?
For those of us in the US, this slot game has a soccer theme, whereas for those who enjoy this game abroad, they refer to this as Football. Either way, it is very exciting for online players on both sides of the globe. The symbols in Football Star slots include: sports shoes, a star T-shirt, Arbiter, the stadium, Football Star Logo, and Soccer scatter logo. Additionally, the players who are on your team are #19, #8, #5, #1, and #4. The Football Star Logo is the wild symbol and will become a stacked symbol on reels 3, 4, and 5.
Free Spins Round
When you get three or more soccer ball scatter symbols, you will win 15 free spins. When three or more combinations appear, they will explode and new symbols will drop down from the top. This could happen multiple times, which then kicks in the multiplier. The multiplier can go as high as 5xs. You will notice that at the top of the slot machine are three boxes: the first is the free spins number; the second is the multipliers 1-5; and the third is the total win box.
Play Football Star Slots
Become a star in your own right by playing Football Star Slots at our recommended casino. With the World Cup Match already commencing, what better way to celebrate your team to victory than to simultaneously play Football Star Slots! For those online players that love football (which I do, too), we decided to take 5 of the top football theme-based slots from different software developers and give you a short review of each.
Gridiron Glory Slots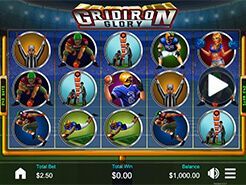 Gridiron Glory Slot is now found at some of the top online and mobile-optimized casinos. All this brings the excitement of a Monday night football game right to your desktop computer, iPad, iPhone, Windows or Android device. However, I was surprised to learn that there aren't a myriad of football theme-based slots online, so I was pleased to showcase 5 of them for the benefit of football-loving US players online. Gridiron Glory is a 5x3 reel, 243 ways bonus video slot. The Wild symbol is the Yellow Helmet and will become stacked on reels 3, 4 and 5. The Scatter symbol is the Football. What else! Get all five Footballs anywhere on the reels to win 250xs your bet. Moreover, the free spins round will be triggered when you get 3, 4, or 5 scatter symbols yielding 15, 20, or 25 free spins respectively. The coin value starts with 50 cents and the max bet is $100 per spin. When you get winning combinations, those symbols will disappear and new symbols will drop down and replace them. Score a myriad of goals when you play Gridiron Glory Slots.
Champion's Goal Slots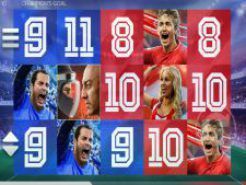 Champion's Goal Slots is a 5x3 reel slot with 20 pay lines. The max bet is $100 per spin. What makes this slot game so unique is that it is more about the fans than the players. On each side of the field you have the blue symbols which will pay left to right and on the other side you will have the red symbols that will pay right to left. The Champion's Goal Logo is the Wild symbol and the three other special symbols are the Soccer Ball, the Trophy, and the Referee. Moreover, 3x3 symbols will trigger Cascading TIFO with 3 extra rounds. There are also 3 betting strategies: The Jumper, who raises on each win; The Leveller, who raises after 5 consecutive losses; and the Booster, who simply raises on a loss. There are free spins, re-spins, and a sticky corner. This is one exciting game to play as its special features are fabulous.
Football Cup Slots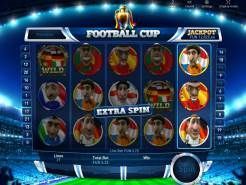 Football Cup Slots is a 5-reel, 25-payline bonus video slot. This unique game includes the "Lucky Locker" bonus game and a great gamble feature which puts players into the field of play. The jackpot is 2000 coins. All of the players will represent their nation, and when you see them, hear the music, and what they are wearing - you will get a big kick out of it. Three matching nations will pay a 15xs multiplier; four will award a 40xs multiplier; and five will offer a 100xs multiplier. Get 5 goalkeeper gloves to win 500xs your bet or get five golden boot trophies and win 1000xs your bet. The Lucky Locker is triggered when three or more Bonus symbols appear the reels. Players will have to look in one of the footballers lockers for any leftover memorabilia. Pick a locker to see what's inside and you will receive a special random prize. The Football Cup Gamble Game also offers a very exciting and unique gamble game. Instead of the usual 50/50 guess the card color, this side game places players into the action by showing them an animation of a striker going through one on one with the keeper. All you have to do is choose which corner of the goal to shoot the ball and hope that you can outfox the keeper to hit the back of the net. The bottom left and right corners will double the win from the triggering spin while the top corners will quadruple the win. Every goal that is scored will give spinners another shot at the gamble game but if the keeper saves it, then the game is over.
Football Carnival Slots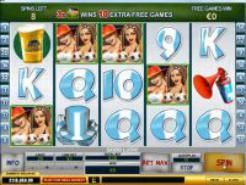 Football Carnival Slots is powered by Playtech, and is a high stakes game. Each time you spin the reels, you will almost always come up with stacked symbols. But more impressive is that this is a 50-payline slot with a max bet of $1250 per spin. Of course, this high stakes game is not for the feint of heart, but anyone can play this game as the coin values begin with one cent. There is a Wild symbol as well as the Football Carnival Logo symbol playing the Scatter. When you get three or more you will win 10 free spins with increasing multipliers. There are 6 players who will become stacked on the reels, and this too will increase your odds of getting winning combinations. This is a must-pay game, even though it is not as technically designed as other football slot games.
Football Frenzy Slots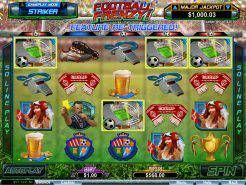 Football Frenzy Slots from RTG is one heck of an exciting slot game. This is a 5x4 reel, 50-payline progressive bonus video slot that will have you cheering as you make the first spin. The max bet for this game is $12.50 per spin, making it ideal for all players to engage in. The two special symbols in this game are the Wild Striker and the Scatter Stadium. The latter will pay out 500xs your bet if you get all five. When any winning combination includes the Wild symbol, your payout will double. There are two different game modes: Lucky and Striker. In the Lucky Mode, Free Spins are not multiplied, but the Lucky feature is enabled. In this feature, 8 Free Kick Free Spins may be triggered. In the Striker Mode, All free spins are tripled. Depending upon the number of scatters appear on the reels, this will determine the number of free spins you will receive, so be sure to read the pay table. You can also win up to 900xs your bet during the Penalty Kick Bonus. Go for the Goal!