Top 5 Popular Slots at Cafe Casino
If you asked online players what their top five popular slots were at Cafe Casino , undoubtedly, they would give different titles. At Sunshine-Slots.com, we have checked out the top 5 popular slots at Cafe Casino, and you may be surprised at what we found.
Number One: 777 Deluxe Slots
777 Deluxe turned out to be the number one slot at Cafe Casino. After all, it is a classic slot with a fabulous bonus feature. As traditional slots go, and with the number of slot games with seven in the title, it appears that this particular game has a mystery symbol that activates the bonus round, wherein players may be surprised to find they won the progressive jackpot. What is the Mystery symbol? A Golden Seven. But that's not all this game offers. This slot has multipliers up to 250xs! Where else can you find a progressive classic slot game offering this massive payout?
Number Two: Golden Buffalo Slots
Number Three: Reels & Wheels Slots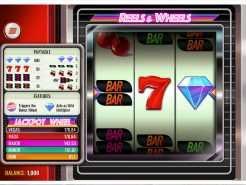 This slot game has it all! A classic progressive slot with 3-reels, 1-pay line, the traditional symbols not only appeal to conventional slot players but also has a Bonus Wheel. It is this feature that makes this slot game as popular as it is. Spin the Wheel and win multipliers up to 500xs your bet. Moreover, it also has a Jackpot Wheel which can garner players five amazing progressive jackpots. This trip back to the nineties will allow players to score big when they get three Diamonds on the pay line.
Number Four: Fairy Wins Slots
Number Five: A Night with Cleo
A Night with Cleo , one of the most popular games ever as far as our players are concerned, is in the number five spot. Among all the Cleopatra Slots we have reviewed, A Night with Cleo is the only one labeled for Mature Players Only. Thus, this is the first Cleopatra slot game with Cleo stripping down to the bare minimum, based on the player's not-so-bare maximum bet. With its random progressive jackpot that can go over $100,000, Free Spins, and a feature that gives players up to a 32xs multiplier, players who want to see a sexier version of Cleopatra can play this fantastic slot game at Cafe Casino.