Treasures of Pharaohs 5 Line Slots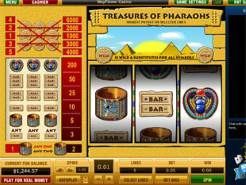 Play Now
As we differentiate between pay lines for same title slots, we introduce to you Treasures of Pharaohs 5 Line Slots. You can read our recent review of this slot game with 3 lines. It is basically the same as the 3-lines slot. The only difference is that there are two more jackpots you can win, as long as you bet the max.
About the Game
Treasures of Pharaohs is a classic 3-reel, 5-line bonus slot. The bonus comes in due to the Wild Gold Coin symbol. The coin size is $5 per line with a bet of $15 per spin. There is an Auto Play available, and you can view the pay table which is located to the left of the slot so that you can follow the payouts as you play. You can play this game for fun or for real money, and it is also available for mobile users as well.
Playing the Game
As with all classic games, the object is to get is to get as many like symbols as you can. In this slot game you have 5 lines to work with. If you can bet the max of $15, the payouts are as follows:
Get three Gold coins on line 4 to win 6000 coins
Get three Gold coins on line 5 to win 4000 coins
Get three Gold coins on line 3 to win 3000 coins
Get three Gold coins on line 2 to win 2000 coins
Get three Gold coins on line 1 to win 1000 coins
Conclusion
Basically, this is a very easy game to play, and if you are new to online slot play, this would be the perfect place to begin. We recommend you play Treasures of Pharaohs 5 Lines Slots at our preferred casinos.