Classic Slots
The number of online slots has grown exponentially in the last few years. With progressive slots, multiple paylines, and lucrative payouts attracting slot enthusiasts worldwide, there is one constant that still remains true to its original concept – classic slots. What I like about classic slots is that they are easy to play, fun, and sometimes they offer a special feature. The paytable is displayed directly atop or to the side of the slot machine, making the gaming experience all the more enjoyable. While you may have one or more favorite 3-reel classic slots, I would like to share my favorites with you.
Diamond Mine Slots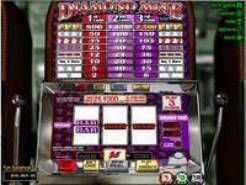 No matter now many online slots I play, I always come back to this slot game, one of my favorites - Diamond Mine Slots . Its simplicity along with its classic style makes it very hard to resist. With a jackpot of 2,500 coins, it features all my favorite symbols such as Bars, Diamond, Dollar Sign, and Seven. Even though it has a maximum bet of $15, I can play this slot game all day by betting a 3 coins a spin, just as I did in the old days at my favorite Vegas casino. Luckily, now I can play Diamond Mine Slots at three of my favorite casinos – All Star Slots Casino , Silver Oak Casino and SlotoCash Casino .
Sevens and Stripes Slots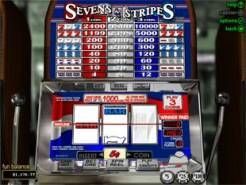 Although the 4th of July is two months away, I play Sevens and Stripes Slots every chance I get. I love the red, white, and blue colors and with only two symbols, you can't go wrong playing this game for several hours. Besides, it has a jackpot of 10,000 coins with a second jackpot of 5000 coins and the maximum bet is only $15. A penny slot player's favorite, I thoroughly enjoy playing this game for its realism and patriotic flair. You can play Sevens and Stripes Slots at the new Manhattan Slots Casino , Club USA Casino and Bovada Casino . Take my word for it, they are fantastic!
Cherry Red Slots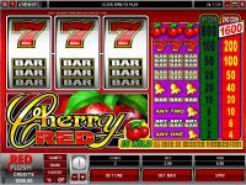 With over 120 classic slots in its portfolio, Microgaming offers the most in 3-reel slot play. Getting back to the traditional slot game is not difficult at Betway Casino as they feature the fabulous Cherry Red Slots. Featuring all my favorite symbols including bells, bars, sevens, and cherries, Cherry Red Slots is loads of fun to play and has some very special features as well. The Cherry is the wild symbol and is also a multiplier, which means when it appears on the reels you can win up to 4x your bet. With a jackpot of 1600 coins and a second jackpot of 800 coins, you can play this can for hours with a quarter a spin or up to $5 a spin. Play this very classic Cherry Red Slots at Betway Casino .