The Asp of Cleopatra Slots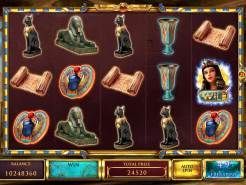 Play Now
Cleopatra Slots have been popular since they were first released, and the Asp of Cleopatra Slot machine is no exception. With the exquisite opening showing the Temple of Karnak as it may have looked is stunning. I know; I was there. The symbols are incredibly accurate and realistic, and I would have to say that this game tops all of the previous Cleopatra slots in both beauty and in payouts. As popular as ancient Egyptian theme-based slots go – I would give this slot a 10! As we all know, it was the Asp that killed Cleo. But this game goes far beyond even that event. The special features in this game are spectacular, and it also comes with a Wheel you can spin. But frankly, there are literally millions of coins you can win playing this game, and we highly recommend that you play the Asp of Cleopatra at our recommended casinos.
Game Facts
The Asp of Cleopatra is a 5-reel, 25-payline bonus video slot. The coin denominations range from €0.25 to €200.00. The max bet is 200,000 coins. Yes, this is considered a high rollers game. But when you look at the pay table, you will see the millions of coins you can win just by getting any five of one symbol. For example, the highest jackpot is worth 4,800,000 coins, with the lowest at 480,000 coins. There is an Auto Spin button that you can use at any time. To the left of the slot game is the Free Spins Panel. This panel will determine how many spins you will receive whether it is through re-spins or the free spins round. On my first spin, I won 50 free spins. But when was the last time you played a slot game that could yield up to 1000 free spins? That's why this game is so spectacular. When you first hit the spin button, you will notice that the symbols that form a winning combination will disappear, and new symbols will drop down to replace the winning symbols. This will give you ample opportunities to garner additional winning combinations.
Cleopatra and the Asp
Cleopatra is the wild symbol in this slot game. If you get all five of her stunning symbol, you will win 4,800,000 coins. Cleopatra's symbol substitutes for all other symbols except the Bonus symbol which consists of Horus and Anubis. The Asp is also a wild symbol but only in the free spins round. If you get all five, it will pay out 1,600,000 coins. Other symbols include the Ankh, necklace, cat, Sphinx, Eye of Ra, Scroll, and a Cup. Get five of any of the aforementioned symbols and you will win from 1,440,000 coins to 480,000 coins, respectively.
Re-Spins and Free Spins Round
In this slot game you have two chances to earn free spins. When you get 4 or more re-spins in the same spin, you will receive free spins. There is a Free Spins panel to the left of the slot game. This is the progress bar that will show how many free spins you will receive. If you do not get the consecutive re-spins, the progress bar will be go blank and you will begin again. Also note, and this is important, you can win a maximum of 1000 free spins!!! This is the definitely the most free spins we've ever seen in a slot game. Once you reach the maximum number of spins, the Asp of Cleopatra will turn off and it start up when you trigger another free spins round. The Asp Symbol, as mentioned earlier, is the wild symbol in the free spins round.
The Bonus Symbol Minigame
When you get three or more bonus symbols, in any position on the reels, you will trigger the Wheel of Gods Minigame. Here, you will be asked to select between two gods: Horus or Anubis. This selection will allow the wheel to spin. Each god will be represented by a different color. If the god you chose has the same color that is shown on the wheel, the result will be a multiplier that you will be able to keep while continuing play. This multiplier can increase your odds up to 100%. But, if the color is different then the multiplier will be applied and the minigame will end.
Play The Asp of Cleopatra Slots
The Asp of Cleopatra Slots IS the most lucrative game I've every played. Whether you bet the max or not, you can still score very high payouts in this game. We invite you to play the Asp of Cleopatra Slots at our recommended casinos. It is one of the most awesome games in this genre bar none.