Bess & Becky Slots
Bess and Becky are two of many fairies in this slot game. According to the description of this game, they will present you with some of their pixie dust to unlock endless fun and countless jackpots. Unfortunately, playing this game did not yield the results I was hoping for. But I will push on.
About the Game
Bess & Beck is a 5-reel, 15-payline bonus video slot. The coin value ranges from one cent to 10 cents per line, with a max bet of $150 per spin. The game has free spins, wild symbol multipliers, wild symbols that multiply the winning line, and a Fortune Chest Bonus Game. The Auto Play is available in this game. I do recommend you read the multi-page pay table as it will show you all the symbols, payouts, special features, and rules of the game.
Playing the Game
There are "big" symbols in this game and all of them are fairies or pixies as they are called. All women, you can make out who Bess & Becky are. The highest paying symbol is Becky. Get all five to win 100 coins. Bess, on the other hand will pay out 80 coins if you get all five. Also note that winning combinations will appear from left to right and from right to left in this game. The low symbols are the 5 card symbols which, frankly, come out way too often. The special symbols in this game are: the 2xs Wild Symbol; the 5xs Wild Symbol; and the 10xs Wild Symbol. The Scatter symbol is another pixie and she will trigger the free spins round. The Bonus symbol is the Treasure Chest.
Free Spins Round
When you get three or more Scatter symbols, you will activate the free spins round and you will be awarded 10 free spins with a 3xs multiplier. I won 10 free spins, but the payout was disappointing.
The Bonus Symbol
When you get three or more Bonus symbols, you will trigger the Bonus round. In this game, there are three chests and you have to choose one of them. I won 325 coins with a $30 bet. If you loved playing Bess and Becky Slots, we have some contrasting slot games from our top software providers that you will enjoy just as much. Due to the fact that Bess and Becky Slots is more of a fantasy theme-based slot; we thought we would delve into the real world and offer you highlights of slot games whose themes bring out the best and worst in all of us.
Good Girl, Bad Girl Slots from Betsoft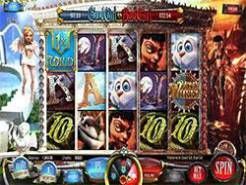 I remember an episode from Criminal Minds wherein one of the main characters says that if you have evil, you have to have good as well. Good Girl, Bad Girl is just that – one evil girl and one good girl. This slot game is a 5-reel, 15-payline bonus video slot. Special features include: two wild symbols, good and bad variants, click me feature, double up bonus feature, and the money wheel bonus. Players can control how they wish to play the game. If the Good Mode is selected, this is considered low risk payouts that are awarded from left to right. If the Bad Mode is chosen, this is a high risk game play in which the payouts are awarded from right to left with higher payouts.
Naughty or Nice Spring Break Slots from Real Time Gaming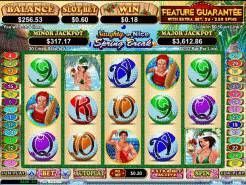 This particular game is kind of fun because good ole Santa is in it. But, the theme of this game is about two girls - a good girl and a naughty girl. The slot is a 5-reel, 30-payline progressive bonus video slot. Special features include the two girls who are both wild, scatters, up to 200 free spins, a Feature Trigger in which you can choose either girl, the Naughty Girl Feature, the Nice Girl Feature, and the Feature Guarantee which means that a feature will be triggered within a given number of spins.
A Night with Cleo from Bovada Casino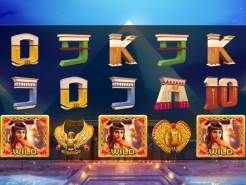 This is one of the most popular and most provocative slot game ever launched. In fact there is a caveat stating for mature players only. But putting that aside, Cleopatra slots has always held a fascination for online players. Cleo had a history of being both good and bad, so this slot game fits in with our good/bad theme. The slot itself is not only exquisitely designed, but very lucrative as well. A 5-reel, 20-payline bonus video slot, A Night with Cleo has some very special features. There are wilds, scatters, 15 free spins, the Double Up Game, a random jackpot, and Cleo herself – who will pay out 10,000 coins if you get all five.
Conclusion about Bess and Becky Slots
This is an okay game for new slot players to enjoy since it is not a high value game. For me, at least, the card symbols were a bit much. However, other slot players may enjoy playing this game. You can play for fun or for real money.