Acceptance of Credit Cards at Online Casinos Increases
When the Unlawful Internet Gambling Enforcement Act was signed in 2006, it dealt a terrible blow to US players who played at online casinos. Making deposits using credit cards became a tug of war between the players and the credit card companies, as some of the larger companies would not honor any transactions from online casinos. But there seems to be a shift in the wind. To begin with, Barney Frank has proposed legislation that would overturn the Unlawful Internet Gambling Enforcement Act and allow US players to play at online casinos. Moreover, another congressman wrote legislation that would not only reinstate online gambling in the US, but use the funds derived to pay for the new healthcare reform. Although the latter is a good idea, Mr. Frank's proposed bill is gaining popular support.
Are Casinos Processing Credit Cards for US Players?
All casinos offer US players a unique opportunity to gamble at their online casinos utilizing the most secure and safe methods of payment. Another point to be made is that the UIGEA was not a separate piece of legislation. It was hastily added to the Safe Port Act and, because it was not properly debated and thought out, the inconsistencies and ambiguities within the bill have caused confusion among those who try to uphold its tenets. In fact, although the Act is not specific in identifying transactions made as a result of online gambling, the credit card companies cannot make determinations as to what is and is not considered legitimate transactions as it relates to online casinos. Moreover, land-based casino lobbyists would like nothing more than to ensure that the UIGEA is fully enforced. As the acceptance of credit cards at online casinos increases, no doubt a resolution will have to be made by enacting new legislation allowing for US players to play at online casinos. The online casino industry is a billion dollar business and it continues to thrive and become stronger every day.
EwalletXpress is No More!
Sunshine Slots is sorry to inform you that eWalletXpress has quit the US market. While there has been much speculation that this would occur, we wanted to keep you apprised of the fact that all is not lost for US players. Not only can you fund your casino account using prepaid gift cards, but there is a new alternative for players from the US called the MST Gift Card. This is an international card that you can apply for at MST Gift Card Casinos and has a maximum load of $500. So not only do US players have funding alternative, but two! While it is unfortunate that eWalletXpress is no more, the gift card payment method is alive and well and will continue to be a viable alternative for US players to fund their US casino accounts. You can apply for the MST Gift Card at our MST Gift Card Casinos.
MST Gift Card Casinos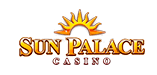 Play Now
Bonus
150% + 20 Free Spins on The Mariachi 5 (code: SEN20), 400% for Slots, Keno and Scratch Cards (code: 400BONUS), 150% Blackjack Bonus (code: 150BLACKJACK), 150% up to $10000 (code: 150BONUS)
Software
Real Time Gaming
Payment Method
Check via mail, MST GiftCards, Skrill, ClickandBuy, Courier Cheque, Money Order, Neteller, InstaDebit, MasterCard, Visa, ACH