Pandora Casino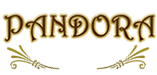 Play Now
You've heard of opening Pandora's Box. Now you get the chance to open the doors to the Pandora Casino to find out what lies within. This is an interesting casino and there are lots of features we should check out. So, let's begin with the one thing we think you will want to know above all else…
What can you get by way of a welcome bonus?
We think you will like this part of the deal, because it brings along a tasty 100% bonus for you to claim. This is worth up to €75, so make the most of it and choose the amount you want to deposit the first time you visit.
Which software developers provide games for this casino?
If we asked you to pick your favorite two software developers, we think there is a great chance you might pick one of either Betsoft or Microgaming , or maybe even both in your selection. The great news is that games from both these providers will be included in the collection at Pandora Casino. That casino name is turning out to be a great choice, since it really will feel like you've lifted the lid on that box of treats! Once this is open and you're through the doors, you won't want to leave…
Plenty of thrilling games to keep you occupied
With Betsoft and Microgaming titles to look forward to, you will get the chance to enjoy some of the best 3D games around today. But that is far from all you can expect, with five-reel and three-reel slot titles offered alongside other popular casino games. Where will you begin, and what could you win if you get lucky on these games?
Several leading banking options to enjoy at Pandora Casino
It's always good to know you can use several banking facilities depending on your preferences. At Pandora Casino, you can use Maestro and Visa Electron if you like debit card options. As for credit cards, Visa and MasterCard are both available for your convenience too.
Enjoy all the perks of being a member of Pandora Casino today
With great tournaments to enter and lots of popular promotions to look for as well, it's no big surprise to learn lots of people are flocking to Pandora Casino. Will you join them, and if so, will you appreciate the experience you have when you arrive?