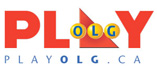 It didn't take to long after British Columbia launched Playnow.com a few years back that other provinces in Canada took notice and decided to take advantage of the ever-expanding online gaming industry. Now Ontario is the next province, with the biggest population in Canada to set their sites on moving into online gaming with their existing lottery site and offer the full suite of online games to consumers in the province. The Ontario lottery and Gaming Corp (OLG) will now be adding its name to the North American legal government run online gaming brands with PlayOLG.ca. Much like PlayNow.com, the site will expand its core lottery products and consumers will be able to buy online: Lotto 6/49, LottoMax and Encore tickets.
By the end of the year a complete suite of casino-style games will be added so that residents of Ontario will be able to log on and place bets on everything from poker, to lotto, sports wagering, skill games, bingo and any game you would find in a typical online casino. "The move into internet gaming is an exciting step in OLG's modernization," said Rod Phillips, president and CEO of OLG.
Obviously, the potential for huge gaming revenue was the deciding factor in moving forward with the full-fledged online gaming site. The province aims to make about $375 million from the site just in the first five years. That number may sound aggressive, but considering its estimated that Ontarians are currently spending about $400 million annually on mainly offshore gaming sites, that number should be easy to reach with the right marketing and product offerings.
The province is estimating to have the site up by late 2013 and have already decided who will be the gaming software provider. In an extensive tendering and selection process, one of the biggest online gaming software providers was selected: the gaming giant Spielo G2. Phillips credited Spielo G2 an "experience company" that would "help OLG provide an interactive gaming experience that will be a secure option."
Spielo G2 or otherwise known as Gruppo Lottomatica and it's Boss Media division will be handling all the gaming operational duties and full suite of games including the back-office and player services. "Spielo G2 is pleased to provide a solution that will support and enhance OLG's modernisation plan to become a more innovative and sustainable organisation while continuing to be a North American leader in responsible gambling," said Walter Bugno, President and Chief Executive Officer for Spielo International.
Spielo G2 has been going after the North American market aggressively and has just been approved for an Interactive online poker license in the US state of Nevada. They signed a five-year agreement with OLG that includes a one three-year that comes with a 2-year extension option.
Profits made from the online gaming site will be going to health care and the community infrastructure. Spielo G2 is no stranger to Canada, which is why they most likely were selected by OLG. The company launched the first legal online poker network in North America called the Canadian Poker Network in December of 2010. They made agreements to handle the poker network for British Columbia Lottery Corporation and Loto-Quebec and Manitoba Lotteries Corporation.
By the looks of it you could say they (Spielo G2) have cornered the online poker industry in Canada, especially now with Ontario now in the mix. One of the biggest concerns for any government institution like gambling, player security, protection and gambling player control are paramount in making sure everything is in check with a major brand like this. The new site will be run by the Alcohol and Gaming Commission and will require players to register in order to participate. It will be a stringent registration process whereas players will have to verify their age and identity; this is aimed at protecting minors from accessing the website.
Gaming in Ontario has a long history of giving back to the community. Over the years gaming revenue has gone to support hospital, athletes, provincial charities, employed 18,000 people and amateur sporting events.
It would be wise for US state lotteries to watch closely at how Canadian Provinces are handling the expansion of online gaming and how they are making it work. After all, online gaming isn't going to stop at this point, now is the time to embrace it and take full advantage of what it can do for the companies and countries that use it to improve their communities while providing fun and entertainment to residents who would otherwise just go offshore.