Rival Slots
While there are many software companies that "rival" Rival Slots, it is fair to say that Rival has gained popularity over the years due to its I-Slots. But more than that, their newest selection of slot games break the mold when it comes to traditional slot design. Thus, we welcome you to our new Rival Slots site wherein we will showcase many of these new slot games as well as review those that have become favorites among our players.
Type
5-reel, video, i-slots, bonus
Bonus round
A Switch In Time Bonus Round
Type
5-reel, video, bonus
Bonus round
Plunko Game Bonus Round, Donkey Bonus Round
New Classic Slots
Among the classic slots that have gained our attention is the newest 3-reel-3-payline game called Heroes Realm Slots . This is like no other classic slot you've played, and if this is a sign of things to come from this software company; all we can say is we can't wait to see what else they have in their creative and imaginative vault of slot games.
Bonus Slots with Multi-Lines
Rival has 54 bonus slot games and 67 multi-line slots in their portfolio. However, there are several new games that have just been released that we are excited about. Dr Magoo's Adventure Slots, a 5-rel, 20-payline progressive bonus video slot; Dog Pound Slots , a delightful 5-reel, 15-payline bonus video slot; Doo-wop Daddy-O Slots , a 5-reel, 20-payline bonus video slot with a fabulous 50s theme; and the Temple of Shangri-La Slot , a 5-reel, progressive bonus video slot that is stunning in its design and play.
I-Slots
These signature slot games are what put Rival on the map. Among the most popular of all I-Slot games are As the Reels Turn Slots , Cosmic Quest Slots , Reel Crime Slots, Psychedelic Sixties Slots , A Switch in Time Slots , and many more.
Rival Mobile Slots
As well as being able to enjoy Rival Gaming slots on your home PC or Mac , you may also get that same brilliant slots action on your Android or iOS mobile device, as the best Rival slots are now able to be played as mobile slots. Rival mobile slots are all fully optimized and designed for play on smartphones and tablets, and you'll find that when spinning from the palm of your hand that those same fantastic features, big jackpots and ways to win are all available.
US mobile slots play is on the up and many players are now getting their fill of the action via their handheld devices, and it's that combination of convenience and simplicity that does the trick as you can now enjoy Rival slots with just a few taps and swipes of your mobile screen.
Top 5 Rival Slots
When a player chooses a slot to play, it is a subjective choice since most players online have their own favorite slot to play. In our case, we based the top 5 Rival slots on the popularity of the slot, that is, the rating given by all online players. Thus, we would like to highlight for you the top 5 Rival slots that have been given a 5 star rating.
Dark Hearts Slots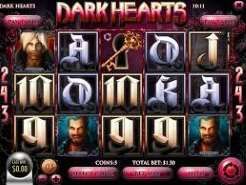 Dark Heart Slots has a fabulous introduction which tells players that "Love Bites" among other things. There are also three characters that players can choose based on the free spins they offer. This game is a 5-reel, 243 way bonus video slot. Although there are card symbols in this game, there are plenty of theme-based symbols that pay out quite well. In addition, there are wilds, scatters, Player's Choice Chamber Free Spins. The selection of spins you can choose ranges from 10 free spins with a 3xs multiplier; 15 free spins with a 2xs multiplier; or 30 free spins with a 1xs multiplier.
King WinaLot Slots
With 5 reels and 25 pay lines, King Winalot 's special features include wilds, scatters, multipliers, the King as the stacked wild, Prince's Free Spins (up to 21), and the King's Chest Pick 'Em Bonus Round.
Chariots of Fire Slots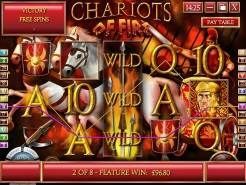 Once again, Rival presents us with a video introduction that tells us you can be awarded 8 free spins with a 2xs multiplier plus expanding wilds. Chariots of Fire is a 5-reel, 25-payline bonus video slot. The main symbol if Caesar and the rest of the symbols beautifully represent the Roman theme of this slot. In addition to the expanding wilds and free spins, there is also a second free spins round called Roman Victory.
Pigskin Payout Slots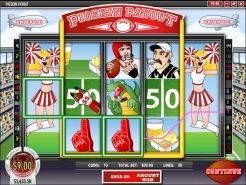 With a cartoonish video introduction, Pigskin Payout is a 5-reel, 20-payline bonus video slot. The theme is football, which is especially popular among online players. Special features in this game include wilds, scatters, up to 25 jackpot free spins, a jackpot symbol that pays out 1000 coins; and the wild symbol will double the payout during the basic game.
Mystic Wolf Slots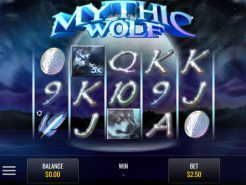 In one of the most amazing video introductions of all Rival slots, Mystic Wolf Slots is voted the best. This is a 5-reel, 50-payline bonus video slot. We are told here that the Running Wolf Wild pays out 5xs, and there is a Mystic Wolf Super Round that pays out 10xs. There is also a Lunar Phase Bonus Round as well. The highest paying symbol is the Diamond - 5000 coins when you get all five.
Play Rival Slots
Interactive slots are becoming the wave of the future for online casinos. They offer a wide range of bonus features and some pretty challenging bonus games. We invite you to play our featured Rival Slots as well as bookmark our site. We will continually update you with new and more exciting slots even before they are officially launched!