Cash Grab Double Bonus Video Poker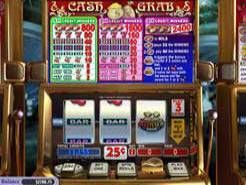 Play Now
There is a new game in town that poker players are going to love! Cash Grab Double Bonus Video Poker has a random progressive jackpot that can be won on any hand. That's right! Any Hand!!! Playing the game is easy. The Hand Rank Name is directly above the five cards dealt, and is shows how much you could win based on one to five coins. In addition, on the right side is the Jackpot Table. Here you will be able to view how much you would win if you got Jacks or Better all the way up to a Natural Royal Flush. The coin denominations range from two cents to $100, with a max bet of $500.00 per hand dealt. I found that you could win just as easily betting a $1 than $500. However, remember that the jackpot is at stake, so for all you video poker high rollers, you may certainly want to get in on this incredible video poker game pronto!
Practice Play the Game
This is a 1-hand poker game. It consists of 5 cards that are dealt to you. You pick the best of the five by clicking on the hold button located under each card, and new cards will replace those that you do not want. If you win the hand, for example, with Jacks or better, you will be able to double your win. This is how it works. When a hand is won, the double or collect button will light up on the bottom of the screen. If you choose to double your win, the first card will be shown face up. You have to beat that card by choosing one of the remaining four that are face down.
The Jackpot
When betting 5 coins, or the max, and you get a natural royal flush, you will win 4000 coins. However, keep your eye on the Jackpot table to the right as the random progressive jackpot continually climbs; and you can win it at any time.
Play Cash Grab Double Bonus Video Poker
Sometimes I really enjoy playing video poker, and this new Cash Grab Double Bonus game gave me a chance to practice-play it for about an hour. I did ok with the 50 cent bet, did even better with the $1 wager. The double up feature is great! The best hand I won was four of a kind and that was sure exciting. If you love playing video poker, you have got to try Cash Grab Double Bonus Video Poker at our featured casino.