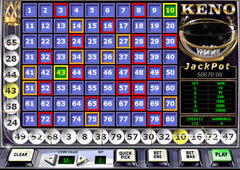 Keno games are one of the hottest and fastest growing of the specialty games offered by the top online casinos. These games, while based on the games found in brick-and-mortar casinos, are in fact distant relations to those slow moving games. The online versions are fast moving, exciting games where many plays may occur in the time that it takes to play a single ticket on the old-style game.
888's Newest
888 Casino is one of the best and most recognized casinos in the online casino world, due in great part to off-line marketing as well as having a first-rate collection of unique games. Their games are unique because 888 uses proprietary casino software. As a result, the games at 888 will not be found anywhere else.
One of the newest games introduced at 888 is the latest and hottest Keno game ever, Keno 10. As with all 888 games, it is unique to their casino, and for Keno fans, it is one that cannot be missed.

The Rules of the Game
The way Keno 10 runs is exactly like other Keno games. The player selects between 1 and 10 numbers on a card that is numbered from 1 to 90. The player also selects how much he or she chooses to bet on each number – on Keno 10 that may be between 5¢ and $10. After the numbers are selected, either manually or via the "Autopick" option, which selects 10 numbers automatically, and the Play button is selected, the game starts picking numbers. A total of 20 numbers are selected, and the amount of the payout depends on the number of numbers matched.
The Keno Experience
Like all of the top casino games, Keno 10 has a great look and feel in game play. It is not a brick-and-mortar casino experience, but it is a great playing online game. Payout ranges from 2.5 coins for 5 out of 10 matches all the way up to 50,000 coins for matching all ten numbers. If the player gets no matches at all, they are rewarded with 3 coins.
Keno Odds
Players can get a lot of fun out of Keno, and there is potential for huge winnings in this old-style lottery game. Players need to be aware, however, that the odds in Keno are the longest in the casino, and there is no real strategy to mitigate those odds. If the player bucks the odds and hits big, they can hit really big, but the odds are very much against that.