New Ogre Empire Game
Stepping into an empire populated by ogres wouldn't seem like a smart idea, would it? We doubt it anyway, but you can witness such an empire if you play the new Ogre Empire Slots slot at VegasRush Casino today. Don't worry - even though an ogre takes center stage for this game, you can guarantee you will be safe from harm. Just sort out your budget, consider the bet level you want to work with, and try this new game for size today.
Ogre Empire comes from Betsoft and has a cool 3D element to it. You'll see the fearsome ogre once the game has loaded, and he will remain in view through the day and night modes in this game. He sleeps too, as you will see. The day and night modes form an integral part of the game, offering a neat switch between the two with Day and Night symbols appearing on the reels.
There are some wilds in each mode, with the Daytime Ogre Smash bonus coming into play while the sun shines. Things don't get dull at night either, with up to 8,000x your bet available if you can trigger the biggest combinations to land on the reels. Ogre Empire is just as impressive as you would expect any new release from Betsoft to be. With the chance to play this and other Betsoft titles at Vegasrush Casino now, you can be in with a shot of winning some cool prizes if you join today.
In addition to the new and exciting Ogre Empire Slots, we have more games from Betsoft that wed like to invite you to play. They are a mixed bag of theme-based 3D slots that only Betsoft can produce in designs that are absolutely sublime.
FAERIE SPELLS SLOTS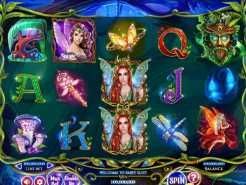 With not one, but FOUR progressive jackpots, Faerie Spells Slots nails it with their most exquisite design and theme. This slot is a 5-reel, 10-payline progressive bonus video slot. The jackpots are uniquely named as: Riches, Wealth, Luxury, and Plenty. And, boy, do you get all of it. Features include up to 25 free spins in which it can pay 1024 ways. There is the Secret Faerie Scatter that is very lucrative; there are the Magic Toadstool and Wild symbol; high and standard payouts, and the Buy Feature. RTP is 96.03%.
ENCHANTED SLOTS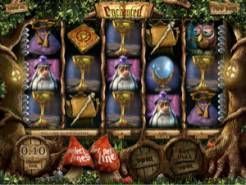 Another uniquely designed slot is Enchanted Slots . This is a 5-reel, 30-payline progressive bonus video slot. The highest payout is 5000 coins. Features include Collect 3 Golden Keys, Crazy Hats - Crazy Reels, Spellbook Free Spins, Bonus Round - Save Feera's Birdie. This is yet another very lucrative slot and Betsoft still reigns supreme in this theme-based slot.
ONCE UPON A TIME SLOTS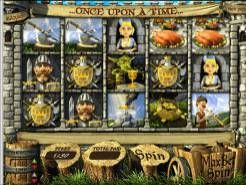 In a land of goblins and dinosaurs, we give you Once Upon A Time Slots . This is a 5-reel, 30-payline bonus video slot. The highest paying symbol is the Princess. Get all five to win 2000 coins. Features include: How She Loved the Knight, Those Crazy Goblins, Greedy Goblins Slots Click Me, Goblin's Treasure Bonus Round, and Save the Princess Bonus Round. The Dragon is Wild or Fire Started is the Wild symbol. Tree House is the Scatter that will lead you to the Free Spins Round.
GENIE'S FORTUNE SLOTS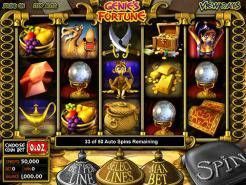 This is perhaps one of the more interactive games from Betsoft in that you can watch some crazy things happening on the reels. "What's today, come on, what's today?" Does this remind you of a certain commercial? The highest paying symbol is 2000 coins. All line pays are multiplied by line bet. Features include the Crazy Monkey, the Wild Carpet, Treasure Chest, Magic Carpet Bonus, and Genie's Fortune Bonus Round. Genie's Fortune Slots is an LOL game that is lucrative, most enjoyable, and another great Betsoft slot.
GREEDY GOBLINS SLOTS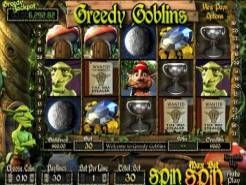 The intro to this game will tell you that you can win up to 1,200,000 credits. Greedy Goblins is a 5-reel, 30-payline "greedy" progressive jackpot bonus video slot. The highest paying symbol is 12,500 coins. Features include Coin Drops, Sticky Wild Reels, up to 25 free spins, Bonus Round, and Double Up Game. To win progressive jackpot, get all five Elf symbols betting the max. All line pays are multiplied by line bet.