Progressive Slot Machines
Playing progressive slot machines online as opposed to playing them at land-based casinos has one significant difference. When you walk into a casino, you will find a group of slot machines that are linked together via a network. Basically, this means that the individuals who play any one of these machines are contributing to the jackpot which increases in size the more people play it. Conversely, when you play progressive slot machines at online casinos, while you may not physically see this linkage of progressive machines, the jackpot grows and pays out huge sums accordingly.
Random Progressive Slot Jackpots
One of the advantages of playing progressive slot machines at online casinos is that many software brands utilize the random jackpot. What this means is that a random number is generated within the software and unlike land-based casinos, you can hit the jackpot at any time regardless of the combination of symbols shown on the reels. Moreover, hitting the jackpot on a progressive slot machine did not depend solely on the maximum bet, but could be won with smaller bets as well. One of the best known progressive slot machines that have consistently paid out huge sums is Microgaming's Mega Moolah Slots. There are at least four different jackpots you can win playing this game during the bonus round. You can also find random progressive jackpot playing Real Time Gaming's Jackpot Piñatas as well.
Types of Progressive Slot Machines
To give you an idea of what we are talking about, here are some of the most popular types of progressive slot machines you can play at our online casinos.
Mega Money Mine Slots
Wager Gaming Technology offers classic, easy and user-friendly progressive game called Mega Money Mine Slots. The game has 3-reels, 1 payline, with Max bet. of $4.5 and classical symbols including: Sevens, Cherries, Bars, Diamonds, Golden Bars, Pots with Gold, Spades this game will be one of your favorites. This game can be found at Liberty Slots Casino
Medal Tally Slots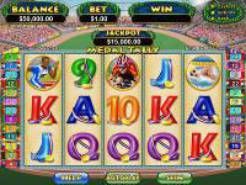 While you wouldn't think to find a progressive slot machine in the classic variation, Medal Tally Slots is such a slot machine. A is a 5-reel, 25-payline progressive slot game with a coin size of $0.04 and a maximum bet of $1. It has a second jackpot worth 10,000 coins. Medal Tally Slots has two bonus games: the Free Spins Round and the Bonus Progressive Round. This game can be found at Club USA Casino and Bovada Casino .
Jackpot Piñatas Slots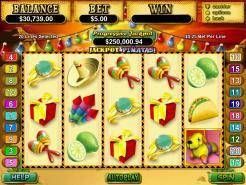 Real Time Gaming offers you the opportunity to play yet another progressive slot machine and one that has recently changed the life of one lucky winner. A 5-reel, 20-payline bonus progressive video real series slot game, Jackpot Piñatas Slots is a colorful example of progressive slots at their best. With 40,000 coins as a second jackpot, you have as much chance of winning the progressive jackpot as anyone else. This multi-bonus featured game includes: wilds, wild multipliers, scatters, up to 25 free spins, and the bonus game; this 25¢ slot game has it all.
Major Moolah Slots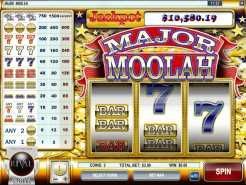 Major Moolah Slots is a classic 3-reel, 1-payline progressive classic slot game has a good luck theme, and Major Moolah logo as one of its symbols. It has a fixed coin size of $1, which is ideal for penny slot players. More importantly, however, you can play for hours keeping your eye on the ultimate prize. Major Moolah Slots is available to play at Crazy Luck casino and Golden Cherry Casino .
Mega Moolah Slots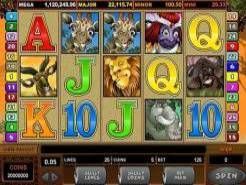 Having both the progressive jackpot slot and the random jackpot, Mega Moolah Slots players have won fortunes playing this slot game. A 5-reel, 25-payline progressive bonus video slot with a secondary jackpot of 15,000 coins, has the very popular African theme. With a coin size from 1¢ to 5¢, the maximum bet is $6.25. While the denomination might seem a bit low, consider the benefits in playing Mega Moolah Slots. First, you have a variety of bonus features including wilds, wild multipliers, scatters, and 15 free spins. But the piece de resistance is that there are 4 jackpots featured in this slot game. The progressive maximum jackpot is followed by 3 random jackpots starting at $10; $100; $10,000, and $1 million. In addition, the bonus game is a Wheel of Fortune type game in which you spin the wheel to vie for the top prize.