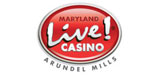 Over the years, Sunshine Slots has reviewed hundreds and hundreds of online casinos, while on rare occasions we have previewed land-based casinos that we found of interest to our players. Today is a special day because a brand new land-based casino called Maryland Live! will make its opening debut in Anne Arundel County, Maryland on June 6, 2012. While this is fantastic news for our land-lubbers, Maryland Live! has also launched an online casino in advance of its land-based casino's grand opening. What is so unique about this online casino is that it is the first Play-For-Fun online casino ever!
So for those of you who live in the Anne Arundel County area in particular, and the Maryland area in general, we would like to give you a preview of this new Play for Fun online casino.
The Online Casino Introduces the Land-Based Casino
Maryland Live! Casino will be located at the Arundel Mills Mall. It will be comprised of 3200 slot machines and table games. The Play for Fun online casino will offer such incentives as virtual credits, online tournaments, and players' cards. Aristocrat Technologies has developed the online casino providing players with a virtual gaming experience unlike any other. We encourage you to visit MyLiveOnlineCasino where you can receive $2500 in virtual credit to play any and all of their online casino games. MyLiveOnlineCasino will also give you $500 in credits every day whenever you log in. Now that's an incentive! Use their generous awards to play such slots as Sex and the City, Wizard of Oz, Monopoly, Queen of the Nile, and more.
Join Maryland Live! Casino Online
We at Sunshine Slots applaud Maryland Live! Casino for coming up with a creative and unique strategy to advertise their new land-based casino. This not only gives our online players a chance to Play For Fun, but to experience ahead of time the excitement that this new land-based casino will no doubt incur prior to its opening on June 6. For the first time in online gaming history, you will be able to get an inside view of the casino through its online counterpart. Pure Genius! We look forward to Maryland Live! Casino's opening, and will thoroughly enjoy playing casino games on their Play for Fun Casino website.
Online Casinos Accepting US players
If for any reasons you don't want to try Maryland casino, we prepared for you list of very popular online casino brands ( Lincoln USA Casino for example) accepting US Players from All States.
Welcome Bonus:

100% up to $5000 on first 5 deposits

Welcome Bonus:

100% up to $5000 on first 5 deposits

Welcome Bonus:

up to $777 on the first three deposits