Slots With Best Bonus Games
The best slots you can play are those that offer more than one bonus game. But depending upon the slot, even one bonus game can make all the difference. If you are a slot player, you may well know that bonus games can come in many forms. These may include Pick Me, Free Spins, and interactive bonus rounds. To this end, I would like to highlight slots with the best bonus games. In my opinion, the best bonus games come out of Betsoft. With 3D action and interaction, no one else comes close to beating these best bonus games designed by this great brand.
Charms & Clovers Slots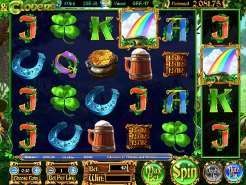 There is something about a Leprechaun that truly brightens my day. So it is that I chose Charms and Clovers Slots , a 6-reel slot, as having the best bonus games. In this game, there are 5 standard reels and the 6th reel is separated by a vertical line. This game has some very special features. So let me share them with you. First, we have the very happy Leprechaun, who we have seen in many subsequent slot games. In this game there are two types of Free Spins, with additional features. When the 6th reel is stacked with the Mega Symbol, you will receive 8 free spins. Then the Leprechaun will leap onto the reels and create a 3x3 symbol. This symbol, in combination with the regular symbols, will combine during the bonus game yielding high payouts. The other special feature in this game is the Pots of Gold Bonus Game. When four of the same symbols appear on the 6th reel, you will be awarded 8 free spins. During this feature, the Leprechaun will toss golden coins onto the reels. These will then turn into wild symbols. The Golden Bonus is yet another feature in this game. The Leprechaun will take you to his meadow when you get four Golden Bonus symbols on the last reel. Here will appear five Pots of Gold. You will be asked to choose one of them where you can win up to 20xs your bet. Finally, there is the Magic Money Wheel. Yes, yet another fabulous bonus game. When you fill all four spaces on reel 6 with the Money Wheel symbol, you will reveal the Charms & Clovers 3D Slot Bonus Game. You will have the opportunity to spin the Magic Wheel and win up to 15xs your bet, or the chance to spin the Super Wheel. If you get to spin the Super Wheel, you can win up to 40xs your bet, the Mini Jackpot, or go on to the Mega Reel. Here, you can win 100xs your bet as well as the Giant and Colossal Jackpots.
Good Girl, Bad Girl Slots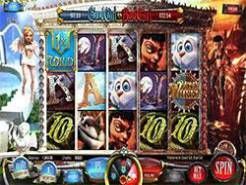 Good Girl Bad Girl Slots is a 15-payline slot from Betsoft. In this slot game there are two Wild symbols – the Halo and the Pitchfork. The Halo will appear on reels 1, 2, and 3 and double your payouts. The Pitchfork will appear on reels 3, 4, or 5 where you can win from 1xs to a 4xs multiplier. If both these symbols appear in the same spin, it will trigger the Multi-Variant Click Me Feature. In this feature, you will be shown four Gift Boxes with Gold Ribbons. Each of these Gift Boxes can contain small, medium, or large wins. In addition, there is also a Double Up game. Simple toss a coin and it will either come up Good Girl or Bad Girl. If you pick correctly, you will double your money. Finally, we have a Money Wheel Bonus. This Bonus can be unlocked when you get three or more Money Wheel Bonus symbols. In this game you will spin the wheel where you will receive free spins, progressive games, and bonus awards.
Jurassic Park Slot
This wildly famous movie series also comes with its own slot game. Jurassic Park Slots has a 5-bonus level feature that reflects the movie perfectly. When you get three Amber scatter symbols, you will be awarded 12 free spins. One of five dinosaur features will be chosen at random, adding additional features to the free spins bonus round. The Tyrannosaurus Rex Bonus features Wild Reels wherein the T-Rex Slots can appear and make five reels wild. The Velociraptor Bonus will offer Multipliers and Split Wilds. The Triceratops Bonus has Running Wilds. The Brachiosaurus bonus includes Mystery Multipliers. Finally, the Dilophosaurus Bonus features Winning Wilds, wherein the Dinosaur turns random positions wild.
Pink Panther Slots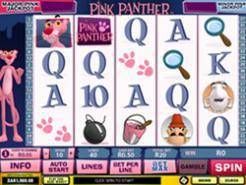 If you are looking for multiple bonus games to play, Pink Panther Slots is the game for you. This slot game has 4 bonus games which can be randomly triggered as you play. There is the Crack the Pink Code Bonus, where you open safes to reveal free games with multipliers or expanding wilds. In the Color Pink Bonus, the Pink Panther and the Little Man paint a wall of numbers in pink and blue. All the pink winnings are added together and multiplied by your total bet to award a huge payout. You can collect the payout or try your luck again up to 3 times. In the Wheel of Pink Bonus, you can accumulate payouts by spinning the wheel to determine your win multiplier. In the Pink Trail bonus, our famous detective, Inspector Clouseau, will follow the footsteps and stack up payouts. The Pink Panther Slot also features the Jackpot Adventure. In this game, you will be asked to open doors to reveal different characters for a chance to win a mystery progressive jackpot.
Avalon II Slots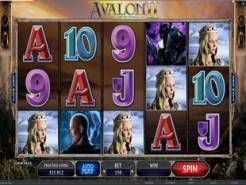 If you are looking for a slot game that is both very unique and has multiple bonus games, Avalon II Slots is it. In this game, you will be on a quest to find the Grail so that you can bring it back to Avalon. There are 8 possible bonus games that await you. Each time you trigger the Grail Bonus you will see a map with all the different locations and bonus rounds laid out. For example, you can re-forge Excalibur in the Lake of Legend bonus; defeat the Black Knight in the Hall of Shadows Bonus; and Spin the Wheel of Fortune Slots at the Isle of Avalon. The bonus features also include free spins with extra wilds, trailing wilds and rolling reels, as well as the Pick and Win features. This is one of the most interactive and exciting slots to come along for online slot players.
Rainbow Riches Slots
Once again, I chose another slot game with a Leprechaun. In Rainbow Riches Slots, this cute Leprechaun is the Wild symbol and is shown over a gold coin. The other important symbol is the game's Logo. These two symbols can pay out 12xs your bet and 25xs your bet, respectively. All you need is to get all five. The Wishing Well symbol in this game will activate the Wishing Well Bonus Round when three of them appear on the reels. In this game, the symbols will appear with the words Pick Me. The bonus you will receive is multipliers. The second bonus is called Road to Riches. In this game, the Leprechaun will take you to a second screen where you will find a Wheel with eight positions. You will be asked to spin the Wheel, however, when you press the appropriate button, the Leprechaun will spin the wheel for you. The reward for spinning the wheel will come in the form of numbers from one to six, and a 2xs. Once you receive your symbols, the round will end. But there's a catch. In order to get the highest multiplier, you will have to achieve 24 steps. The highest multiplier is 500xs. Thus, with more bonus symbols that you trigger, the more lucrative multipliers you will receive. Three bonus symbols will trigger this feature, and the highest multiplier is 200xs. Four bonus symbols will award you with a 400xs multiplier. What a great game!
Monopoly Big Event Video Slots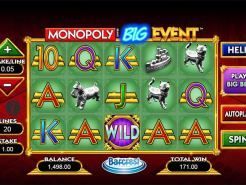 Much has been made about Monopoly Slots. I have played this game in another format, but still enjoy it to this day as to many online slot players. Monopoly Big Event Video Slots has 20 pay lines. The Big Bet Game is a progressive win multiplier that will be applied to the win on each reel if you bet $20.00. Moreover, the multipliers will vary from 1xs to 5xs. There are three bonus games in this slot, and if you bet $30, you can enjoy them all. The bonuses include: Progressive Win Multiplier; Epic Spins with a 5xs multiplier on each spin; and Persisting Wild Big Event Bonus where the wild will remain in place for 5 spins. Three or more Big Event symbols will trigger the Big Event Bonus Round. The Big Event symbol will appear on reels 1, 3, and 5. If you get four Big Event symbols, you will activate the House Sneak Preview; and if you get all five symbols, you will trigger the Hotel Sneak Preview. If you love playing Monopoly as much as I do, Monopoly Big Event Video Slots will definitely brighten your day with lucrative results.
At the Copa 3D Slots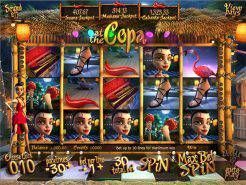 I particularly love this slot game because At The Copa Slots has many special features. These include Free Spins; Double Up; Wild Symbol and Free Spin Reel; Three Progressive Jackpots; and the Bonus Round. Betsoft really upped their game with this 3D slot, which is one of many favorites among slot players. The Dance theme and the slot itself are spectacular. The special features are also unique, and will garner you lucrative wins. Moreover, the three jackpots are not that out of reach! But it is the Bonus Round that is so much fun as it is interactive. When you get two male on either side of the female dancer on reels 1, 2, or 3, the bonus round will commence. You will have the opportunity to cheer of the handsome as they battle it out to impress the lady. This bonus round is captured in a cinematic format.