How to Deposit, Withdraw and Claim Bonuses with Bitcoin
Bitcoin is intimidating at first; however, it's straightforward to use! It helps you move money into your Cafe Casino account faster than other payment methods. You'll see how to deposit with Bitcoin online and how to score the best Bitcoin Bonuses, with steps for withdrawing Bitcoin when you've got some winnings to enjoy.
How to Use Bitcoin to Deposit
Cafe Casino answers your Bitcoin questions in the Help Center for Bitcoin FAQ; however, we cover the basics here. Before diving into how to deposit Bitcoin online at Cafe Casino, let's quickly talk about setup for people new to cryptocurrency. You can buy Bitcoin from an exchange where you trade money for Bitcoin. To buy some Bitcoin, you will need an exchange e-wallet. After you accept Bitcoin, you'll need to send it to your digital wallet for safekeeping. With the two wallets set up and some bitcoin in your wallet, you're ready to deposit bitcoin online at Cafe Casino. After you log in to your Cafe Casino account, click Deposit. That reveals your Bitcoin wallet address and generates a unique QR code. Select Send and scan the Cafe Casino unique QR code or paste the Bitcoin wallet address. Next, select the amount of Bitcoin and confirm that transfer. Your Bitcoin appears within your Cafe Casino online account within a few minutes. Traditional payment methods like credit cards can delay due to the practices of the financial system, and Bitcoin transfers are secure and swift. It's an excellent choice to play Bitcoin slot machines, and you don't want to wait long to get into the game or get denied by your credit card provider.
The Ultimate Bonuses at Cafe Casino
One of the best Bitcoin bonuses available when you first deposit bitcoin online is the Cafe Casino Welcome Bonus. That bonus is a 350% match deposit bonus, which means that it equals 350% of your deposit, up to $2,500. To withdraw your bonus, satisfy the play-through requirements, and the funds at Cafe Casino will be eligible for withdrawal. Some games contribute higher percentages than others, so be sure to check the contributions charts to become more familiar with the best casino games to satisfy the play-through requirements. Slots contribute to play-through at 100%, so that's always your best bet. Think of them as bitcoin slots!
Bitcoin Withdrawals in Minutes
Suppose you hit a fantastic jackpot and are ready to withdraw Bitcoin from your Cafe Casino account. It's time to use the process to deposit bitcoin online. Firstly, go into your digital wallet and click Receive. That reveals your wallet address to copy. Go back to your Cafe Casino withdrawals screen and paste that unique address into your Wallet Address field. Next, enter the amount to withdraw, and after confirming the transaction, the bitcoin funds should appear in your wallet within about 24 hours. If you're going to convert the Bitcoin back into dollars, send them to your exchange e-wallet, and be mindful of the fluctuating exchange rates. When they are favorable, there is no time to waste.
Bitcoin is Straightforward to Use
It's easy to start using Bitcoin to deposit, earn bigger bonuses, and withdraw quickly and securely. It's not just for techies that use Bitcoin, and it's for everyone! So click the link and get started by selecting the Bitcoin exchange.
Best Bitcoin Slots at Cafe Casino - Fortune Turtle
Dragon's Scroll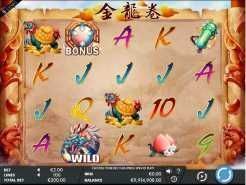 Dragon's Scroll is yet another smashing video slot by Genesis Gaming. The video slot works on tablets, smartphones, and computers and has 5-reels, 4-rows, and 100 adjustable paylines. Dragon's Scroll takes its inspiration from Asian mythology. The theme revolves around heaven and an endless sky in Chinese culture. The slot game provides you with the chance to find out what creatures inhabit paradise and attempt to win big payouts once you activate the free spins round. Wilds will help you unveil bigger prizes, which is why you should constantly be on the alert for them. Dragon's Scroll's setting is magical, thanks to the high-end graphics. The giant Scroll seems to hover somewhere high in the sky as slot buffs see puffy clouds all over. It's hardly surprising that the colors are blue and white. If you take a closer look beyond the reel grid, you will notice that several clouds are reminiscent of a mountain. The serene soundtrack is in keeping with the worldly theme. So it's hardly surprising that the reel grid is against a scroll. On both sides of the Scroll, two red dragons entwine. Dragon's Scroll has a modern, intuitive interface like other Genesis Gaming slots. Although the top-notch animations are likely to make players stick around for some time, the game's unique features are what guarantees exciting instant wins for reel spinning fans. The icons that appear once you set the reels moving are very imaginative. In addition, Dragon's Scroll has six lower-paying symbols playing cards from nine to Ace. All the symbols reward a payout for a minimum of three identical characters. The higher-value logos are four lucky charms. The minor lucrative prizes fall when players land five jade artifacts or five plum blossoms as they will return your line bet 250x your stake. Likewise, you'll get back your payline bet 500x, provided five symbols with koi fishes depicted on them appear simultaneously. The dragon turtle is a rewarding character, and if five icons show up in the same round, you'll enjoy a balance boost of 1,000x your payline stake. The special symbols that will show up whenever you set the reels in motion will positively make the gameplay a lot more enthralling. The wild is the dragon holding a pearl or a crystal ball, and its duties are to replace all regular symbols. The Scatter can land on any position on the reels, and it can bring you a payout worth 50x your payline stake. It is a dragon's claw holding a pearl or something of the sort.
Achilles