Bovada Practice Slots
At Sunshine Slots, we review thousands of slot games. More often than not, we have to sign up as a guest at a particular casino in order to sample the games. But at Bovada Casino, we can practice slots all day long without having to do anything except select a slot game and begin to play without depositing a dime. To give you a bird's eye view of how exciting Bovada practice slots are, I decided to choose 4 slot games and play each of them for 15 minutes. The slot games were: Aztec's Treasure Slots , Caesar's Empire Slots , Cleopatra's Gold Slots, and Diamond Dozen Slots in that order.
You Can Bet the Max Playing Bovada Practice Slots
As I said, the slot games loaded instantly and I began playing each one. Aztec's Treasure had stunning graphics, as did Cleopatra's Gold. Although I was trying to activate the bonus rounds on each of these slot games, it was Diamond Dozen Slots that excited me the most. Not only did I hit the free spins round twice, but each round garnered me $169 and $290, respectively with a $10 bet. Not to be honest, I did bet the max on Aztec's Treasure, Caesar's Empire, and Cleopatra's Gold but, alas, the $1000 Bovada gives you for practice play was gone before the 15 minutes were up. But I took a different approach with Diamond Dozen Slots . I started at $1, and every 5 spins raised the bet to $5, and then $10. Within the first 15 minutes of practice play, I won over $300 to add to the $1000 that was given at the outset. I continued to play this slot game and, after another 15 minutes, I was ahead by $643.
Diamond Dozen Slots is Exciting and Lucrative!
One of the features you can utilize when practicing slots at Bovada is to read the paytable. In fact, this is the first thing you should do to fully understand and appreciate the game. I did so, and was glad I did because when 3 white diamond symbols appear from left to right, you are required to touch each diamond with your cursor and a number will appear from 1 to 10. The numbers are multiplied by each other and then by the trigger bet (in this case $10) to yield a total prize won. I was fortunate to get 3 white diamonds! Not only that, when you get 3 blue diamonds, this triggers the 12 Free Spins Round. I hit this twice! This is why we highly recommend you read the paytable before playing. If I hadn't, I would not have touched the white diamonds to earn more coins. Among the more than 200+ games at Bodog Casino, here are 3 very popular slot games Canadians can practice play via Instant Play.
Aztec's Treasure Slots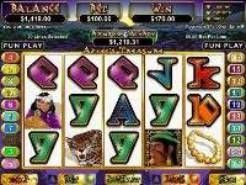 Aztec's Treasure Slots ' theme is about hunting for the greatest treasure known to the ancient world. This slot is a 5-reel, 20-payline random progressive bonus video slot – one of the most popular slots online. Features include: Land on three, four or five scattered Idol symbols and wins 5, 15 or 20 Free Games, respectively. Every time a scatter symbol appears while playing a free game, the player receives a bonus equal to the triggering bet. Getting 1, 2, 3, 4 or 5 scatters will award 1, 2, 5, 15 or 25 additional free games, respectively. All prizes won during a free game are tripled except for the bonus. The Aztec King appears only on reels 2, 3 and 4 and substitutes for all other symbols except scatters. Players can bet $0.01, $0.02, $0.05, $0.25, $0.50, $1, or $5 per line. Autoplay is available.
Caesar's Empire Slots
Caesar's Empire is an ancient Roman theme-based slot. This slot is a 5-reel, 20-payline random progressive bonus video slot. Win 10 Free Games when one or more Caesars appear at the same time as a Coliseum symbol on reel 5. During free games, Caesar can appear on reel 5 and all Coliseum symbols are changed to Caesar or Cleopatra. Prizes are doubled during free games. Every Caesar symbol that appears awards the player up to five extra free games. Free games are played at the lines and bet of the triggering game. The Caesar symbol appears on reels 1, 2, 3 and 4 during normal games and triples the prize when appearing in a winning combination. Players can bet $0.01, $0.02, $0.05, $0.10, $0.25, $0.50, $1.00 and $5.00 per line. There is an Auto Play button.
Cleopatra's Gold Slots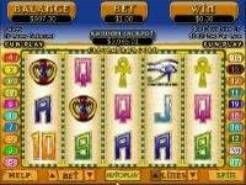 Perhaps one of the most popular games of all time is the Cleopatra Slots. Cleopatra's Gold Slots is a 5-reel, 20-payline random progressive bonus video slot. Players are awarded with 15 Free Games when three or more scattered Pyramids appear. If three or more scattered Pyramid symbols appear during a free game you win another 15 Free Games. Prizes are tripled during free games. The Cleopatra symbol doubles the prize when it appears one or more times in a winning combination. Players can bet $0.01, $0.02, $0.05, $0.10, $0.25, $0.50, $1.00 and $5.00 per line. There is an Auto Play button.
Bovada Practice Slots Benefits New Players
As a new player or, in my case, as a reviewer of slot games – having the ability to practice play at Bovada is fantastic and offers me a unique opportunity to truly test every game if I so choose. I highly recommend new players to take advantage of Bovada's Practice Play and then join the casino and play for real money. You'll have to excuse me now – I am going back to Bovada practice slots to try for another 12 free spins!