Lions, Tigers and Bears Slots
Follow the yellow brick road to a trio of slot games that are sure to be fun-filled, exciting, and rewarding. Although you may not be in the Land of Oz, playing these animal themed slots will place you in the heart of the African wild.
Safari Slots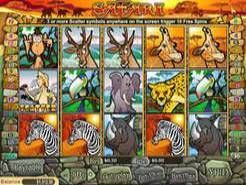 To fully complete the trio of animal themed slots, check out Safari video slots at Liberty Slots Casino . The slot game has 5 reels with 20 pay lines. The symbols are indicative of an African safari and include: jeeps, cameras and binoculars, rangers, lions, elephants, giraffes, zebras, cheetahs, rhinos, parrots, deer, and monkeys. The jackpot is 10,000 coins with a secondary jackpot of 1,000 coins. The maximum bet is $200. Try for the 15 free spins by getting three or more ranger symbols. You can triple your winnings in this bonus free spin feature.
Tiger Treasures Slots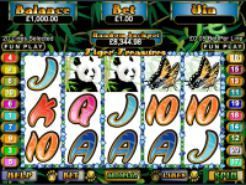 Also available at Royal Ace Casino is the Tiger Treasures Slots progressive video slot game. With 5 reels and 20 pay lines, the first jackpot is 4500 coins and the second is 2250 coins. The symbols are indicative of this animal theme and they include: tigers, pandas, butterflies, flowers, rubies, and more. The maximum bet is $100. Moreover, if you get three scattered logos you can win up to 25 free spins in the bonus section of the game. This slot game also has the trigger feature as well. Read our full Tiger Treasures Slots review
Lions Lair Slots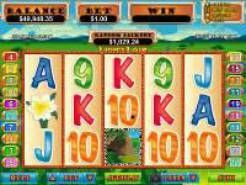 Available at Slots of Fortune Casino is Lions Lair progressive video slot game . It has 5 reels and 20 pay lines. The symbols include: lions, lairs, zebras, and more. The maximum bet is $100. The bonus feature kicks in when you get the lair symbol on lines 2, 3, and 4. This gives you an additional 12 free spins. In addition, the spins will be multiplied up to five times. There is also a trigger feature which affords you additional spins. The jackpot is 7500 coins and the second jackpot is 3750 coins. You will roar with glee as you play and win this slot game!

Head on over to these casinos and try your luck in the land of munchkins and talking scarecrows. All USA players are welcome!