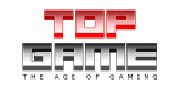 New to the casino software scene is Top Game. Unique to Top Game is the fact that while most new casinos utilizing software began with a handful of games, Top Game has a portfolio of over 100 games, which is quite an amazing feat considering they are only a year old.
Top Game's most popular game is classic slots. However, they also have a wide range of progressive games with large jackpot payouts. In addition, the video slots included in their portfolio are fast-paced and high-quality games that players have found to be exciting, fun-filled, and offer large jackpots as well.
Another game feature is video poker which has also become quite popular among players who enjoy this niche. They have also introduced Keno as an entertaining option as well.
Top Game, which is open to USA players, offers the following slot games to date: 8 classic slots; 17 video slots; 21 progressive slots; and one bonus feature slot. The classic slot games range from one to five lines, and the video slots range from 9 lines to 25 lines.
Some of Top Game's slots have bonus features such as: bonus games on the second screen, free spins, and other bonus games on the reels. Some of the popular slot games are: Stars and Stripes Jackpot, Bingo Jackpot, Monster Madness Jackpot and Fruit Jackpot. All are progressive.
As Top Game increases in size and reputation, it will no doubt continue to offer games that are high-quality, graphically stunning with sound effects to match, and give players the safe, secure, and user-friendly environment they expect from online casinos.
Top Game Casinos
New TopGame Slots:
TopGame News